How To Flush Out The Cockroaches In Your Lakewood Home
3/15/2022
There are many different species of pests that invade Lakewood homes. Many do not make any effort to avoid being seen like ants and flies. Cockroaches, on the other hand, will do absolutely everything to avoid interactions with people. If you suspect there is a cockroach nest inside your home and you are looking for a way to flush these pests out, here are some things to consider today.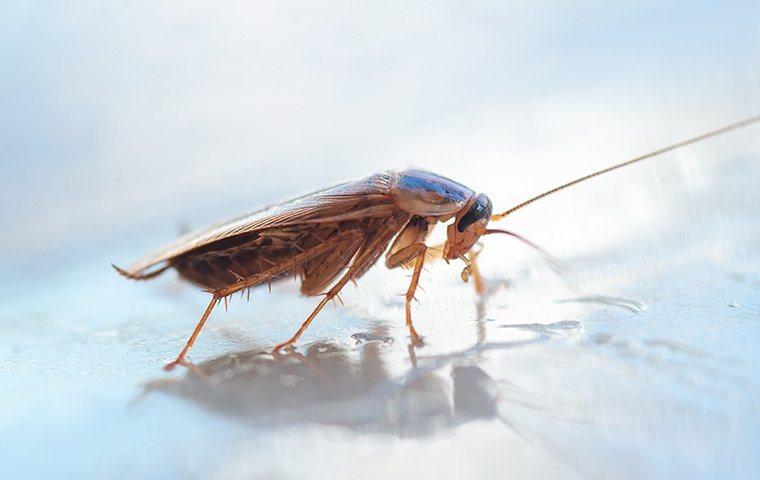 Where Do I Look For Cockroaches In My Lakewood Home?
Cockroaches are nocturnal pests. This means they typically only come out into the open at night. If you see one of these pests during the day, it means their hiding spots are becoming cramped or that particular roach is a bit braver than its brothers and sisters. To know if your home has a roach infestation, without seeing a live cockroach, here are six signs of cockroach infestation to keep an eye out for.
Grease marks on floorboards and countertops
Coffee-like fecal droppings
Shed cockroach skins
A musty odor in the air
Egg capsules
Property damage
You may also run into these pests late at night while they are active. If you turn on a kitchen light at midnight and see dark-colored bugs dart out of your view quickly, they are most likely roaches.
Can You Get Food Poisoning From Cockroaches In Lakewood?
Food poisoning comes from eating food that has been contaminated with certain kinds of bacteria. Cockroaches have a habit of picking up bacteria and then transporting them over countertops, tables, and left-out food. If possible, these pests will also invade stored food items and defecate inside them. All of this can lead to food poisoning or other forms of sickness. Some diseases you might contract from having cockroaches inside your home are staphylococcus, salmonellosis, cholera, campylobacteriosis, giardia, leprosy, dysentery, and listeriosis
How To Prevent Cockroaches In Your Lakewood Kitchen
Now that we have gone over some cockroach facts to help you better understand these pests, let's talk about how to prevent cockroaches in Lakewood. To start, here are some house cockroach prevention tips that you can do on your own.
Thoroughly inspect your home's exterior for gaps, cracks, and other openings. Use a caulking gun or some liquid cement to seal off these potential entry points.
Make sure all of your gutters are clean and damage-free.
Repair damage to weatherstripping and door sweeps.
Check the quality of your window/door screens and replace them if they are damaged.
Close unscreened doors and windows when they are not in use.
Keep your living areas tidy and keep up with general cleaning like dishes, sweeping, and vacuuming.
Clean your trash cans as they get dirty and make sure they have tight-fitting lids.
Store all of your pet food, dry food items, and leftovers inside air-tight containers.
Address moisture issues inside your home by fixing leaky pipes, using a dehumidifier, and wiping up spills.
What Does Pest Control Do For Roaches In Lakewood?
One not-so-fun fact about cockroaches is that they are difficult to eliminate. If these pests are causing trouble inside your home and you need to get them out fast, your best option is to invest in professional cockroach pest control through Bugaboo Pest Control. We know how to identify and eliminate invasive areas pests. We also know how to deter cockroaches with advanced control products and strategies.
Call us today to learn more about our comprehensive general pest control plans, to have questions answered, or to schedule an appointment for your Lakewood home.